By Sarah Paris
Creating a fully functional Covid testing lab from scratch in eight days and maintaining a capacity sufficient to serve most of the state has been a feat made possible at UCSF inspired leadership as well as a small army of volunteers, the "Covid Corps." 
"These volunteer students and postdocs have been the life blood of this operation," said Joe DeRisi, PhD, who is leading the project. "They have been instrumental in being able to execute high-volume, high-accuracy, rapid-turnaround testing for the state of California." 
It was March when he and his team at the Chan Zuckerberg Biohub decided to convert their space into a COVID-19 testing lab. They knew they needed a lot of help, but did not expect the reaction to their call for volunteers. "Hundreds of people came forward," DeRisi recalls. "And many of them put in hundreds of hours of work."
One of the first to volunteer was Valentina Garcia, a PhD student in Derisi's lab, who had been focused on her thesis in malaria research before the pandemic hit. "When the plan to create the Biohub CLIA lab began to solidify, it became apparent that they would need volunteers from the UCSF community to help run the tests. With UCSF shutting down and the uncertainty of how the pandemic would evolve, I was eager to do something to help," she said.
The lockdown had paused much of research at UCSF, and lab-based scientists found they had time on their hands. "When I learned about what was happening at the Biohub across the street, I jumped at the opportunity; here is something where I could offer my time and expertise," said Rigney Turnham, PhD, a postdoc in the lab of John Gordan, who normally studies the effects of hepatitis B virus in liver cancer.
 "I'm not a physician or otherwise essential front-line worker, and it was a way for me to make meaningful contribution based on the abilities I already had," echoed Emily Wong, PhD, a fellow postdoc working in the lab of Geeta Narlikar.
In the early days, volunteers worked around the clock to set up the lab equipment and protocols, which included running robots -- automated liquid handlers -- to perform the tasks requiring high accuracy, precision, and repeatability. "Watching them closely, running the protocol over and over to make it consistent, took a lot of time," said Madhura Raghavan, PhD, another postdoc in  Joe DeRisi's lab who was part of the core team creating the lab. There was no room for error. This was going to be a CLIA lab, and it needed to produce 100% accurate results for the humans it served.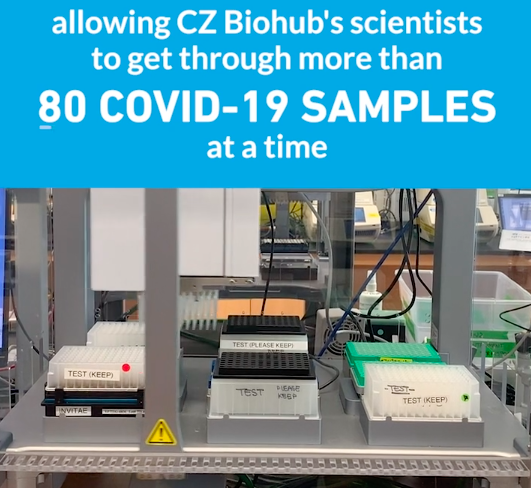 As the lab ramped up to a high volume of testing, the level of productivity made it necessary for volunteers to wear a number of different hats.  Sam Li, PhD, ordinarily an electron microscopist in the Biochemistry Department, has been processing the collected sample from patients. "This includes re-arraying the samples in a 96-well plate, followed by extracting the RNA from the sample and detecting any COVID-19 in the sample by the qPCR assay."
Newcomers are taught by veterans like Raghavan, who appreciates the opportunity to train other people. "It's a good way to increase your teaching skills."
The lab has been extending its activity as more California counties have reached out for help with testing. Many of the original volunteers, as well as more recent recruits, continue to donate time, even as they have resumed their regular research. One reason is the opportunity to interact with other scientists that they would not normally encounter. "I have met so many interesting and entertaining people I would not have otherwise talked with, even other grad students and postdocs from my floor at UCSF!" said Wong. "It's been a great place to meet fellow scientists in other disciplines," agrees Raghavan. "We tend to not often hear about each other. Seeing this kind of solidarity has been biggest reason why I continue to volunteer."
And while acknowledging that the road to overcome the pandemic will be a long one, there's also a shared sense of optimism. "I believe the Biohub will serve as an exemplary model in response to a crisis such as this," said Li. "With our cool-headed and visionary leadership, dedicated lab members, and overwhelming support from our community, we will prevail."
read more about PRecision Population Health: Joining Forces to Reduce Disparities